December 11, 2012
Merry Christmas All!
Christmas 2011 was one of our last updates, but I figured since Cole and Ariana spent the evening addressing Christmas Cards, I should do a little update about our family. Life in our family is wonderful, busy, chaotic, loud, amazing, fun, and stressful, sometimes all at once. Over all life is treating us well and the kids and growing and healthy. So here's our long Family Christmas Update:
Evie, "our baby", is just about two and a half. She is so full of energy and spirit it is sometimes hard to just watch without getting tired. She is friendly, out-going and determined. She is very self-sufficient, a little too much for Austin and I at times. She has been talking up a storm and is so stinkin' cute. She gets into some amazing and often disgusting trouble. I love watching the world through Evangeline's eyes; everything is so intense and she gets so excited. We went to The Festival of Lights (a drive through lights display) last night and she was shouting about what everything was and would just insert "Daddy, I happy" every once in-a-while. That's life with Evie.
Diana started preschool this year and loves it. She's a lot more shy than Evie, but not clingy. And while she was a little nervous I've never had to pry her off me and run for the exit like I did with Cole. Her first day was probably more tough for Evie and I than it was for her. Evie bawled and I managed not to shed a tear. She's only gone two afternoons a week, so we still have plenty of Diana time. She is a snuggler and a pink princess and is always dressing up in princess dresses. I often find her sitting, reading a book with her stuffed animals in a princess dress. We went to our Church Christmas Party and everyone was invited to dress in robes like they did in Jesus's time. While the other kids wore robes, Diana wore a red flowery princess dress to "dress up". She says the funniest things. Today, I told Cole that his favorite pants were probably sad because he wasn't treating them nicely. Diana said "Mom, pants don't have faces." I guess you can only be sad with a face.
Cole holds his own with his four sisters. He learned to ride his bike this summer. Also this summer he almost cut off his thumb and then at the end of summer broke his arm! He loves Legos, Star Wars and Angry Birds. He's only days away from turning 6 and I can't believe it! He is loving his dual-immersion Spanish kindergarten class and loves to sing in Spanish. He is always waiting to play with his friends and most days he comes home from school having talked to some friend about playing together. He's still really shy and doesn't talk to many adults, his school teacher included, but he will be talking a million miles an hour at home and with friends. He's always the one Austin and I can hear Saturday morning when we're pretending to sleep in. Cole loves to draw pictures of our family.
Bria is speaking Spanish really well. Ever since September she's been a lot more likely to speak to Austin and I in Spanish. I think having her brother in Spanish has really helped her. Bria, the aspiring artist and writer, is almost always found in her spare time doing some kind of art project or writing a story. She brought home a story that was 10 pages about Santa getting stuck in the chimney. She was having so much fun writing it that she asked her teacher if she could bring it home over the weekend to finish even though it wasn't homework. She even got an award at the Council level for a poem she wrote for Reflections. She is so imaginative! She really loves dance and is getting really good at roller-blading. She finally lost four teeth this year!
Ariana loves loves loves to read. We finally let her finish the Harry Potter series this year. Ariana and I read the Gregor the Overlander series (kind of) together. We read the first book alone and most of the other books together and bawled at the end of the last book. The third and fourth books we both caught each other sneaking ahead when the other wasn't able to be reading. Ariana is loving her modern dance class and is becoming absolutely amazing at the piano. She feels the music and shows it when she plays. She loves helping Cole with his legos and is looking forward to getting some of her own this Christmas. She is an example to me of being kind to everyone, even if she's a bit shy, she goes out of her way to befriend others that need a friend. She saw an item that is really hard to find right now on the "Giving Tree" at church and really wanted to give this item to another child. I told her we'd have to give the child the one I bought for her for Christmas because now they're on Ebay for double the price or more and we couldn't really spend that much and she happily agreed. I am so proud of her and I know I wouldn't have done that at her age. Awesome!
(Athena) I'm doing good. I really love being a mom to my kids and most days I don't need to remind myself :). Austin's great! I'm so glad he's mine forever. We've loved watching Downton Abbey this Fall, and we're all caught up for Season 3 to start after Christmas. I stay busy with my church callings as a primary teacher (Sunday School) to 10 year-olds (Ariana's Class) and an Activity Day leader to 10 and 11 year-olds (twice a month activities). I've also been more involved in PTA than I ever have been or planned on ever being, and while it has taken up a decent amount of my time I have really enjoyed most of it. I'm on the PTA board over Reflections, which is an art program. It's been great, and I'm hoping to get a bigger showing from our school next year. It's over now, so it's been nice to have that time back. I've loved doing some digital scrapbooking when I've had the chance. I've painted the house a lot this fall, and very recently I've gotten into family history research and can't believe how fun and exciting it is. With some help from a sweet neighbor, and even a bit of work on my own, I've found some info and ancestors' names that we didn't have before.
Austin has had a growing year. He has continued to cope with his health problems, both anxiety and actual physical problems that were brought on by his sickness last October. He is coping really well with his anxiety and doesn't seem to give himself as much credit all the time. That's human nature though. He really is awesome. He had a second MRI that came back clean which was a huge, huge relief. It ruled out a lot of things that could be really bad, but since he still has unexplained symptoms he doesn't have the closure that we'd been hoping for. We are hoping that he'll be relieved of the physical symptoms soon. H He's doing great at work and was recognized for his hard work a few months ago. We're so blessed that all of this health problems really haven't effected his ability to work. He smoked our turkey this year, and the turkey and the gravy were to die for! I accidentally bought a little smaller turkey than I have in years past, and we hardly had any leftovers. So that was a bit sad. This August/September we built Austin an office. So now it's at least harder for the kiddos to bother him when he's working from home, and I don't have to worry about keeping them away quite so much. He also built some awesome wains-coating that I designed in our front entry way. He's amazing. He really has very little experience with doing these kind of things, but he can do them well. He also put up some wood shelving that I stained and designed. I could have done it an easier way, but once we got in, there was no turning back. He did it without a complaint, and it turned out great in our family room.
We went on two vacations this year. One to Moab with my two sisters and niece and one to Arkansas and Missouri to visit Austin's brother Bryan and his family. We loved both trips and had a lot of fun. Evie was sick with a fever for half of the 10 day vacation to Arkansas and was a trooper. We endured temperatures with Highs in the 100s, maybe even 110 one day, the whole time we were there. Nothing like 103 fever (poor Evie) in that kind of weather! We went to an awesome childrens' museum in St Louis, as well as their science center and the Arch. We were also able to spend the Fourth with Bryan & Aubrey and their kids. We can't wait for Hammer Cousin camp next summer! We were also able to stop in Independence, Missouri on the way home from St Louis and visit a few LDS Church sites. Moab was during the kids' spring break, and the weather was a lot cooler than we thought it would be. It was fairly cold and windy most of the time, but we had a lot of fun. We saw a lot of amazing rock formations and hiked like crazy and stayed in possibly the nicest double-wide ever.It was so much fun with my sisters and niece, and I think we're hoping to do something similar with more of the family real soon! Ariana and Bria played softball this summer and Cole played kickball. Also, after 20-ish years my family was all able to be together for about an hour to take some pictures. It was fun and nice to get the pictures. I added a lot of pictures through Photobucket's photo stories.
Click on the picture link to see all of the pictures!
We also had some amazing family pictures taken by my friend from junior high this fall.
Merry Christmas to you all!
February 1, 2012
Today is the first of fourteen days of LOVE. It's my count-down to Valentines Day. I did this last year for Austin and the kids and plan on doing it again this year. I'm hoping that no one has remembered that today is the first of February, Ariana's been talking about last year's count down lots the past couple weeks. I really want at least today to be a surprise. The kids especially liked it. I never did anything to pricey and I don't plan on it this year either. The gift I was going to get Austin on the 14th was spoiled by our credit card company calling Austin to find out if the charge was a fraudulent charge. It was a great deal I got for a night away, we're still doing it, but there's no surprise there anymore. Now I'm trying to decide if I should get him another gift or not for the big day. Last year some of the things I did was give everyone hand massages, made cereal treats in the shape of hearts, wrote everyone a thank you note of things they had done that day, a few times it was just a little treat and a silly poem. I wrote cheesy little poems every day. Writing (as I am sure you've all noticed) isn't really my thing, so they were very cheesy, but everyone liked them anyway. Today to kick it off I'll be cutting out hearts like crazy and putting them all over the house. I am either going to write I love you in different languages on the back or write nice things about each person and they'll have to find them or maybe something else. Now it's time to get Cole off to school and Evie napping & Di watching Winne-the-Pooh and then I'll actually have a few minutes to myself to cut out hearts. I have a feeling the two and a half year old will be helping me a lot more than watching her movie, hopefully, we'll make a good team. :) And I'll count my lucky stars that the one and a half year old still naps!!
Oh, and I might be switching over to wordpress sometime soon. I don't think we'll change the website, so it won't be too big of a deal.
January 31, 2012
Austin's health problems are a constant thing around here, some days and weeks are good and some not so good. And some absolutely horrible, but that doesn't happen too often, which is good, considering they actually are completely horrible. Austin had his final follow-up with his neurologist a few weeks back and he told Austin that he may just live with some chronic pain every now and then in his arms from the virus that he had in October. His anxiety is the health problem that he is having the hardest time with. It effects his sleep a lot. If his anxiety is really high, he doesn't sleep at all. Considering the anxiety has stemmed from his childhood it is understandable that it may take some time to work it out. He's been seeing a therapist and is making good progress. He's also been reading several books, one of which we mentioned in an earlier post.
He's also been following-up with his Primary Care Doctor. He just found out that he has a genetic mutation that may be adding to some of these health problems. Unfortunately, in really life having genetic mutations doesn't mean you can read minds, transform into other people, control metal, create storms, etc :-). No X-men here. He's taking some meds that we're hoping that they'll help to ease the symptoms. We'll see how it goes.
Austin is overall doing good from the outside. He doesn't seem any different and does most of the things that he's always done: work, serve, etc. I just know he's so anxious inside and actually deals with physical pain too. He's able to work on little sleep and do just fine at work. He's also able to fulfill his church calling fine too. I am so grateful for those blessings, the Lord is mindful of us. I just hope this eases soon so he's able to feel like himself soon and feel happier. We're doing good and the Lord loves us and has blessed us countless times.
December 19, 2011
Merry Christmas to you all!
We have been enjoying our this Christmas season so much so far! One of the wonderful things about having so many little ones is getting to enjoy the excitement of Christmas through the eyes of five super excited children. And all the magic and mystery that comes with it. And, of course, the excitement is at times a little too much and leads to tears especially when mixed with sugary holiday treats, but most of it is a lot of fun!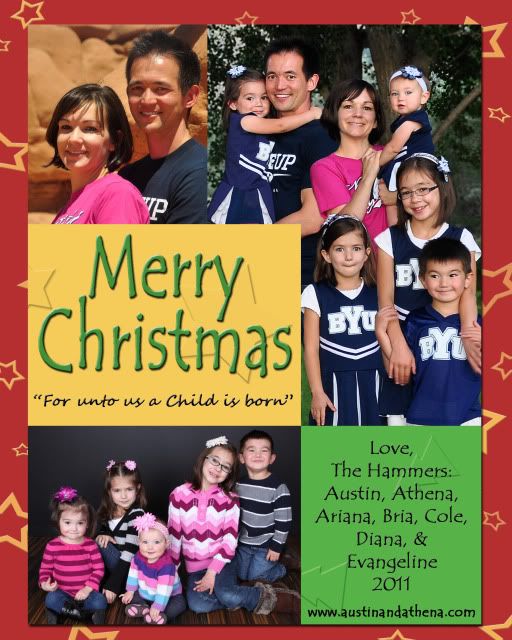 At the beginning of the month Austin (re)introduced our baby Jesus manger to the kids at Family Home Evening (Monday Night family time and spiritual lesson). The kids are able to add a piece of "straw" to the manager every time they do something kind for someone else in the family. They've done great, its already starting to overflow!
We've had fun looking at lights, seeing Santa, decorating gingerbread houses with friends and celebrating Christmas with our ward (Church). We also just celebrated Cole's Birthday! I can't believe our little guy is 5!
As far as an update on Austin's health goes, he's doing well. He had a bit of a relapse with the anxiety attacks earlier this month. He got sick with just a cold or something, but it created the same feelings that he had when he was really sick and it was hard for him for long week. He couldn't sleep again, but he is doing better and probably sleeping better than he has in a long time. We're so grateful for Austin. We are very happy that we're blessed to have him be with us happy and strong for a long time. He is so great! He loves spending time with the kids so much. He says that we're his world!

I'm doing great! Always busy with the kids, but it keeps me out of trouble ;). I get to teach primary kids at church this year I've taught 10 year olds turning 11. Next year, I get to teach 9 year olds turning 10 and that includes Ariana. She is so excited that I am teaching her, it's nice that she isn't embarrassed of me yet! I get to go help once a week at Bria and Ariana's school, thanks to trading babysitting with a friend. One of my favorite memories from this year is when I ran/walked with Ariana and Bria in our first 5K. It was so special running across the finish line holding their hands and how happy they were to have done it. I thought I was being "nice" by letting Austin run it and me just getting a much slower time staying with our girls, but I definitely got the better end of the deal, it's was great.

Ariana is only about my head shorter than me. I am sure she'll be taller than me and not in many years. She loves loves LOVES to read. She's read through the first four Harry Potters this year and wanted to keep going, but I thought she needed to wait until she's in double-digits at least. She also really loved the Percy Jackson and the Olympians Series. The other night she read a 70 page book in 30 minutes, I didn't believe her and quizzed her about it. She just eats up books fast. She's currently ready the 10th 39 Clues book. She is getting so very good at piano and plays beautifully, last week at piano we had a hard time choosing just two songs for her recital because she play so many great. She is also such a wonderful big sister, she helped Cole yesterday build his whole lego star wars gift. She snuggles Evie when she sad and does a million other wonderful things.

Bria's favorite thing is art. She has at least half a dozen shoe boxes full of her art supplies and she hauls them all out to the table to do a project. Obviously, she's stocked up and that's not something she's getting for Christmas. She is so creative in her projects and can sit and make up songs and pictures for hours, probably days and without food if we let her! I've been so impressed with how much Spanish Bria has learned in her Dual-Immersion class. It is so cute to hear her speaking Spanish and she does a really good job. Bria's favorite books to read are Nancy Drew mysteries and Magic Tree House. She is also doing super good at piano and has improved a lot. She helps me so much when I ask and is always watching the clock to make sure they get off to schools on time.

Cole has changed so much socially in the past year. I really think preschool has helped him. He used to be so scared and shy and while that's still part of his personality he will talk and sometimes a lot in social situations! I still sometimes go into preschool with him hiding behind me, but he is happy to be there and will talk. I am so glad. This summer I talked to him about breathing deeply to get rid of the "nervous bugs" when I was taking him to swimming class and it really really helped him. I'm glad I was inspired to tell him that. Of course, sometimes his social-ness is a bit difficult, like when I get to his friends house to pick him up after playing and he goes and hides under the coffee table. You wouldn't think it was as difficult to get him out until you experience it. Thankfully, we talked about that too and he doesn't do that anymore. He is getting so good with numbers and adding and reading time. He also is starting to read more and more, it's always really fun to watch kids learning those things and how exciting all the new things like that are.

Diana loves PJs, perhaps more than Ariana loves books. All summer if was dress-ups, now that the cold has hit and with it footed-pajamas she is in the ALL THE TIME. Sometimes she comes down in the morning with a new pair for me to help change her into. So she has her night-time pjs and daytime pjs :). She also prefers to have her left arm and shoulder out with it zipped up all the way. She is such a character! I think all of Diana's clothes from this winter are going to be in perfect condition for Evangeline. She loves Cinderella and princesses in general. Earlier this year we noticed her eyes weren't focusing on the same point all the time and took her to the pediatric optometrist, She has Exotopia (one or the other of her eyes will sometimes "go out") We're hoping that she'll be one of the third of children that it just heals and she won't need surgery. The good news is that both eyes can see just fine. The other good news is after her last follow-up last week the doctor said that it seems like it's getting better. So we're keeping an eye on it and will keep on following up with her doctor until surgery or it's better. As it is, we only really see her eyes doing it now when she is tired or really upset.

Evangeline, where do we start with little Evangeline. The only thing little about our princess is her size. She has the energy of ten toddlers plus two. She is truckload of curiosity, often the mischievous kind. She has tons of kisses and a gazillion hugs. Oh and a few too many pinches of teasing older siblings. She is a fabulous little sleeper, even when sick with a horrible little cold and crying all night! She is such a special little spirit that was sent to us. I don't think we have made it too much of s secret that she was our big surprise and we weren't planning on five kids, not as close as the youngest two are especially. We knew what God was doing sending her to our family and she is the perfect piece to our puzzle. Most days I really don't know how I keep up with her. Especially days that involve her and Diana exploring together (ie, painting each other out of the Greek Yogurt and applesauce containers or unrolling brand-new rolls of toilet paper in down the hall when one of the older kids have left the bathroom open.) God knew we needed her and her happiness in our family. When Austin was sick she would be the little one that knew when Daddy needed an extra hug or cuddle. Always coming love him and snuggle with him, slowing down for just a few minutes when Cole is upset and giving him a hug. Sitting with Ariana while she reads her a story. Taking Diana her blankie and making Bria laugh when she is sad. Our little almost 17 month old doesn't talk much at all (probably 10 words), but she is so intuitive and we're happy to have our rambunctious beautiful princess.

A few pictures from this year to share.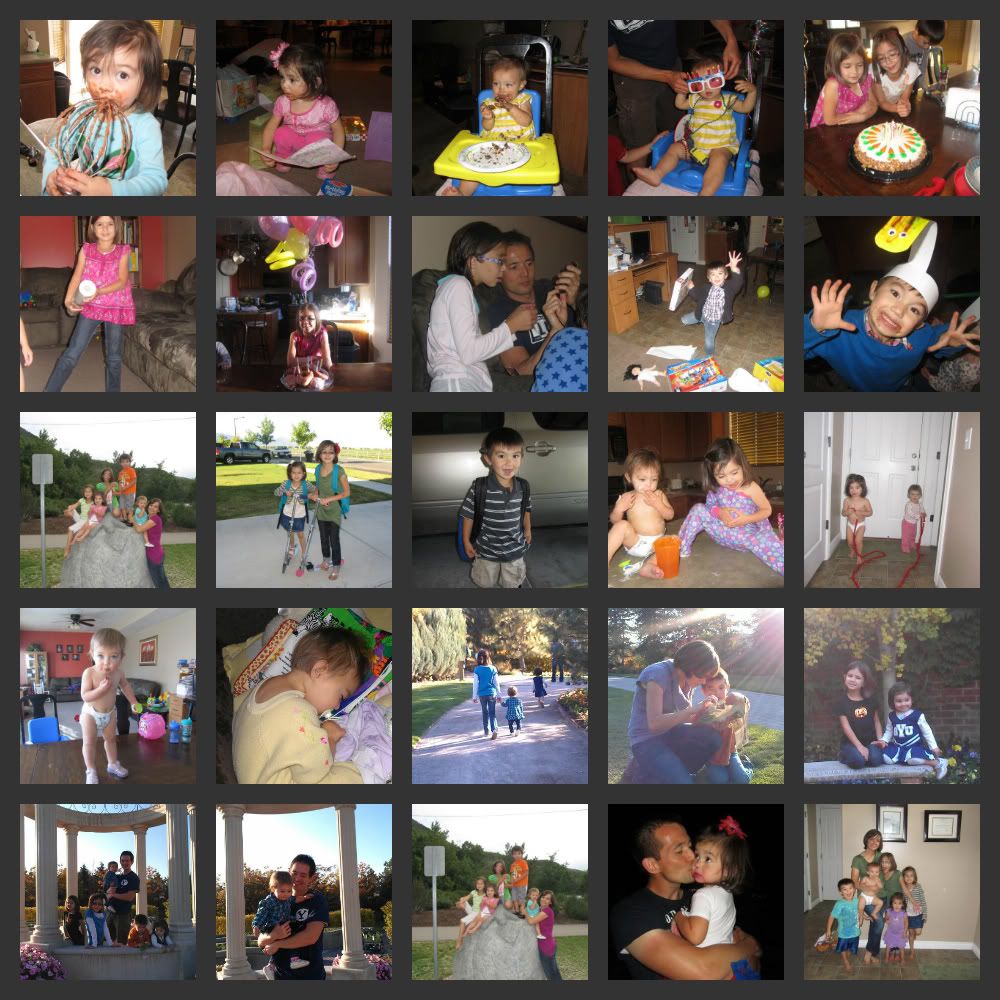 That's us for now! No promises of when we'll get this updated next! Hopefully, on some sort of regular basis! Love and wonderful Christmas wishes to you and yours!
November 8, 2011
From Austin:
Well, I am actually doing really well now. Since Friday night, I haven't taken any prescription medications. I've been able to gradually increase the amount of time I stay asleep at night also. And then last night, I got quite a bit more sleep than I have since this whole thing started. I didn't even feel any anxiety at all when I woke up during the night. My muscles finally feel 100% better to me, too. Now that I've actually been able to sleep, my body's been able to finally repair itself all the way, I think.
I went to the gym for the first time in almost a month this morning. When I weighed myself, it said I weighed 147.6 pounds. So, I've lost almost exactly 10 pounds from this ordeal. Wow. I haven't weighed that little since Junior High. But, that's ok. I know I'll be able to gain back muscle as I start working out regularly again. I almost can't believe that I am able to go back to the gym. There was a time when I really thought my life would be completely changed--in a bad way. I am just so, so, so thankful to the Lord that I really am back to normal now--but with a new perspective on things. I also am SO very grateful to all of you who have helped us out and prayed for us and offered us comfort. This was a very trying time, and we couldn't have done it without all of you.
November 8, 2011
So, I guess this is part 2. I wanted to show off the kiddos. We had a fun Halloween. This year, the older three kiddos are into Star Wars and I made their costumes.
Cole was going to be Luke or Darth Vader, but that all ended when I let him watch The Phantom Menace. As soon as he saw Darth Maul and his most awesome double-bladed light saber it was decided. His awesome Aunt Caitlin said she would do his makeup and it looked awesome. Of course, I couldn't find a red bladed double light saber for less than 50 bucks. So he had a blue and green light saber. I was also able to get a mask and make it into a hat for him to have all the horns and everything. He was pretty awesome.
We had some drama with the old two girls. Bria really wanted to be something with Cole and at first they were going to be Woody and Jessie and then she switched to being Leia when he decided he was doing Star Wars Characters. Ariana really wanted to be a Jedi and once she found out that Leia trains to be a Jedi sometime after the movies end, she was so excited and wanted to be Leia too. Bria was not going to have that and thus ensued lots of drama. In the end, it was worked out that Ariana would be a girl Jedi (Leia) and Bria would be Princess Leia Organa and look like she looks in the movies. The worst part about making these costumes was there are no patterns anywhere, so I have to find patterns and alter then or just make them up. I was really surprised at how well they turned out. It was also a great outlet for me to have something to do other than worry about Austin and all the "what-ifs" that whole time. I forgot that I kinda like sewing and can actually do it.
My wonderful mom made the two little ones princess costumes. The looked so great!
Halloween was a lot of fun. Ariana and Bria had a choir performance in the morning that we all were able to go to. Austin was feeling well enough, that in the evening he took all the kids around to trick-or-treat. Diana and Evangeline slowed down the procession quite a lot. Evie had to walk up to every door on her own which is really cute, but slow. If you know Evie there's not much you can do with her once she sets her mind to it, so she had to get out of the stroller and walk up to each door. She only ended up lasting one block before Austin brought her back home. Of course, she loved having her very own basket of candy.
Ariana actually ended up leaving Austin and going trick-or-treating on her own with her friend. I'm not sure how I feel about her being old enough to do that. She's going to be taller than me before I know it!
A funny thing that happened on Halloween was dinner. I thought it would be fun to make chili and bread bowls. The kids thought it was really cool, but they all HATED the soup bowls and wouldn't eat them. I guess I should stick with mummies made out of hot dogs and dough. Austin, Caitlin and I loved the bowls at least, but the kids thought the soggy bread was inedible! That's not going to be a repeat meal anytime soon, too bad.
November 3, 2011
From Austin: I think an update is in order. Yesterday was a great day at work. It started by me totally changing my attitude towards commuting. So, my morning commute was almost relaxing. While at work, I actually came close to having a couple of panic attacks. I was able to successfully use my relaxation techniques to keep them from getting to a full-blown attack, though. Work was also really successful. I've had a couple of tasks I've been working on for weeks. This is part of the reason for the initial stress buildup. Thanks to a coworker, we were able to resolve one of them and get some good planning/architecture done on the other one that dealt with the more tricky parts.
Another blessing from the Lord: A good friend of mine that used to work with me at a couple of places was in town (he lives in Austin). He emailed me on Monday about meeting for lunch sometime this week. I didn't respond until Tuesday evening. So, I explained how I was having a hard time keeping up with emails, etc. due to some health problems. He responded and seemed to think that meant maybe we shouldn't do lunch. So, I responded and filled him in on my situation. He and my boss and I all went to lunch at a great Thai place near work (Thai House Cusine 2, in case you're interested--it's yummy). He and I have worked for my boss at the same three places.
Well, lunch went really well. I hadn't had Thai food in forever either. So, it was just a bunch of little "happy" moments that really added to how well yesterday went. The weather was also decent. I got home at a good enough time to go on a walk in the sun with a few of my kids. I put Evie in the little stroller, and she was just loving it the whole time. I did a LOT of smiling and laughing during the walk.
Nighttime came, and I was feeling REALLY good. I had only twinges of panic come up during the evening. I also noticed my appetite was mostly back. For bedtime, all I took was a couple Tylenol, 1mg of melatonin and 1/4 of one of my Xanax pills.
I was able to fall asleep after not much time in bed and never felt a panic attack come up. I did end up waking up early last night, but I wasn't panicking, like all the other times. I was just a bit anxious, but I mostly couldn't shut my mind off. After trying to relax for maybe an hour (I'm not sure, 'cause I hide the clock at night now) I gave up and went downstairs to read. But, I wasn't hard on myself for "failure"--like I would normally be. On the way down I took a valerian supplement.
Since I was downstairs, I saw it was 4:22am. I never checked the clock again, though. I read for maybe a good half hour then went back upstairs to get in bed. I did my relaxation and fell asleep maybe after another 30 minutes. I woke up a couple more times, but got back to sleep fairly quickly after doing my relaxation exercises. The next time I woke up, I could tell it was light outside. I checked my phone, and it said it was 7:33am! I had finally had a full night's sleep with NO panic attacks.
What a miracle and blessing from the Lord. I am continually amazed at how much he's willing to bless me--and my family through this ordeal. And I'm so humbled because I know so many people out there don't have success this quickly with panic. Though, I'm lucky that my panic is entirely due to not sleeping and not something else that is less of a transient issue. I'm so lucky.
Oh and another HUGE, HUGE blessing I forgot to mention before is the fact that ever since my insomnia and panic attacks started last Wednesday, Diana has slept through the night--EVERY night. Before this past week, she had been waking up several times a night fairly regularly. At most, she'd go two nights in-a-row without getting up during the night for the last, I dunno, LONG while. Since my insomnia started on Wednesday, I've been begging the Lord every night to have Diana stay asleep during the night. And she has! It's amazing! It's been over a week straight of her actually sleeping through the night. It's no coincidence. It's truly another miracle. Diana has never been a good sleeper. Yet another wonderful blessing from the Lord during this trying, trying time.
Most of this entire morning I have felt like ME. I don't know how to explain that any better. But for any of you that have gone through anxiety, depression, insomnia, etc. you know what that means. I still have felt a bit of anxiety come on a few times. But, I've been able to catch it and ride it out without letting it get too far. I know I still have a long road ahead. But, the Lord has shown me that the end is coming nearer. And I know it is because of all the prayers and the priesthood blessings offered on my behalf. So thank you, thank you, thank you, thank you to all of you who have been praying for us. Again I want to say that I absolutely know there is a God in heaven, and we are His children. He loves us so very much, and He hears our prayers. So many of us suffer from so many different things, but there is a reason to it. This whole experience has taught me so much.
One of the most valuable lessons I've learned is that you absolutely CAN NOT judge anyone. You have no idea what they may be going through. They very most likely are doing the best with the hand they've been dealt in life. Two scriptures come to mind. Doctrine and Covenants 64:10 says, "I, the Lord, will forgive whom I will forgive, but of you it is required to forgive all men." And Luke 6:37 says, "Judge not, and ye shall not be judged: condemn not, and ye shall not be condemned: forgive, and ye shall be forgiven". Only He knows everybody's situation. And for all intents and purposes, we are all equal here on this earth dealing with our own trials, limitations and weaknesses. None of us are better than anyone else. Sorry, I'm getting a little "preachy". :) But, these are a few things that I keep thinking about over and over again. And I know them to be true. Thank you so much, all of you who have been praying for us. The Lord does hear our prayers.
November 1, 2011
Now that I am back to posting I really want to post pictures of our five cute kiddos in their costumes. Hopefully, I will do it soon. Today I thought I should give another fabulous good news update on Austin.
Today Austin had his follow-up with the neurologist and he is just fine. They couldn't see a single thing wrong in the tons of tests they did on him. He was able to go over them thoroughly and he is perfectly healthy. So, the doctor says it was a virus that attacked his muscles and the infection from it is what made him so unable to move and function. We feel like without the blessing and the prayers that have been offered on Austin's behave, it would have been another diagnosis and we are really grateful for all the family and friends and support that they have given us.
Austin is physically feeling really good and has his motion and movement back. He gets little bits of time where they'll feel sore and stiff, but the doctor said that is too be expected as his body heals completely.
Unfortunately, all the stress of not knowing and the scary outcomes of what could be, Austin started having panic attacks. He wasn't able to sleep for four days, among other things. Now with the help of the doctor, a therapist, a couple doses of medication (as needed), a fabulous book about anxiety that he has been reading and another priesthood blessing (thank you so much Sean and David) he has been able to calm down and keep himself a lot less anxious the past two days. He actually slept almost the whole night last night. We think this is the last hurdle of this trial, and we can already see the numerous reasons and blessings behind this trial. Even with knowing all this, it is still just really hard for Austin to calm down and relax, but he knows he'll get there soon. Just keep praying to the Lord with sincerity and faith, and we'll get there.
October 27, 2011
October 27
From Austin: Well, last night was pretty terrible. I had a coworker that convinced me I had MS. So, that threw me into a panic. So, I did not sleep at all last night.
I had my EMG this morning, though. I was extremely nervous about it. The doctor administering it told me that he was going to test for 8 - 10 different things. He explained the procedure to me and then started to do just some physical tests on me--much like what was already done with my PCP and the neurologist's nurse. These included tests of my reflexes, too. I showed good strength and good reflexes.
I told him I was extremely nervous and anxious due to a coworker making me believe I have MS. I kept taking deep breaths, trying to calm down. He and his assistant (a resident or intern) kept talking to me about different things (where I grew up, what I do, etc.), to calm me down. Really these guys were so good at helping through this.
They start with the surface electrodes on my arms that send electric currents into my muscles. It's really quite an interesting sensation. After that, they start with the intramuscular electrodes that consist of sticking fine needle-type electrodes into my muscles at various depths while they take readings and also have me contract my muscles after they take the at-rest measurements. This is sort of uncomfortable, but bearable. After he does my left arm, he repeats the whole process on my left leg.
During the testing he keeps getting surprised looks and saying, "good", "that's good", "that's good", etc. As he's progressing, I ask about MS. He says they need the MRI to be sure, but he said from what he sees so far, he doesn't suspect it. My symptoms don't really match up. He asks where and when I got the MRI. I told him I got it Tuesday morning at UVRMC. He says they should have the results back already to Dr. Taher, then. He asked if they called. I say no. He then tells his assistant to go find it.
The assistant comes back a few minutes later and hands it to the doctor. He takes a quick look at it and then turns it toward me and says, "here, take a look". I read it as he tells me what it says: "Brain scan normal. No lesions." The doctor then says that Dr. Taher has already taken a look at it and says it's normal. He then says that with the tests he performed, he ended up testing for 12 - 14 things. And that if he were to take this same test, he'd want my results. He said that he seriously doubts I have MS. He also told me earlier in the testing that I didn't have Guillain Barre. He tested for that, and I don't have it. He says he tested for a lot of "scary stuff", and I don't show to be having any of them.
He then goes on to explain how much he respects Dr. Taher and how he is "the best there is, maybe even in the country". He says he likes working with this clinic, because he likes working with Dr. Taher and knows he is the best. He tells me that I'm in good hands, and I should feel relieved with the results from my MRI and EMG.
So, I did feel so relieved. I broke out in tears, because I was so grateful to hear that my nerves are healthy and that I have no lesions on my brain. It's hard to describe, really, what it feels like--it's really indescribable. Unfortunately, I still am feeling anxious. I just can't shake it. My heart rate is currently down to about 80 beats/minute at rest. This is high for me. I'm usually in the low 60s. However, that is a million times better than where it was during the night last night. It was hanging aroud 120 - 130 beats/minute. I think the problem is that such a sustained time of being under a panic attack has me so full of adrenaline, that my body is having a hard time relaxing. Plus, I still don't know what's going on with me.
In the end, I got probably the best news I could ever dream of. On the way home from the EMG, I was praying out loud, thanking the Lord, telling him how there's never any way I could possibly even come close to thanking Him sufficiently or "paying him back" or making myself deserving of such a blessing. I just feel so lucky and blessed. So many people in this life do have to go through life-altering challenges. While this has been a couple of the hardest weeks of my life, it really looks like I should be ok (once I can calm down enough to sleep, that is).
For those of you out there that have been praying for us, I also can't thank you enough. We could not have gotten through this without you. It's made all the difference in the world. I know the Lord heard your prayers and blessed us tremendously because of it. Miracles still happen today. And the Lord has not shut the heavens.
October 25, 2011
It has taken me half the day to write this, but as promised here is today's update. I've been busy running here and there. Trying to figure out Jedi and Sith costumes, getting groceries and turning in Diana's notarize birth certificate before it got to late to correct a mistake.
Austin's MRI was at 7:15 this morning. It went as well as it could. Sounds like an experience I don't ever want to have and Austin never wants to have again. It was a lot of loud beeping and vibrating coming from all directions for 30 minutes. It went really well and he didn't have to have the metal gadolinium injection so they could see things better. Now we're just waiting on his doctor for the results, I think we may have to wait until his follow-up a week from today to find out all the results, but hopefully sooner. Apparently, this was mostly to rule out MS.
Austin says he's feeling a lot better today than even yesterday. He hasn't really been feeling the muscle spasms that he normally feels throughout the day as much as before. As far as what he can and can't do he's never lost the ability to walk. It did hurt at one point, but not now. He went a couple days when he couldn't hold Evie, but he can hold her and Diana for a bit now. He can't hold the older kids, but how many 9 year-olds really need to be held? He can wash his hair, just fine now; he only needed help twice for that. He's never needed help eating or brushing his teeth, though he started worrying he might not be able to brush his teeth, he never got that far. He can drive ok now, he wasn't able to earlier. Austin was working out just about every day for the past several years; that's something he can't do now. Nor can he cook or exhort force on things to open or to keep a squirmy child still for a diaper change or getting them dressed. So, I do the heavy-lifting around here. Not that we have much of that:). Our older children have been so wonderful in helping around the house and listening. He also has been able to type just fine, which is what he does for the majority of his job. At first he needed breaks, but he seems fine now. Being able to type has been a huge blessing. I may have missed some things, but that gives you an idea. On the outside, he looks perfectly healthy. We just need to figure out what is going on inside. He might login later and add some things.
Oh and I wanted to thank everyone for the well wishes and prayers and the offers of help. We are truly doing great, but we will call on you for help if we need it! Thank you so much! Tomorrow he doesn't have any tests or appointments so we won't have anything to update until Thursday.
For old Family News check out our archive